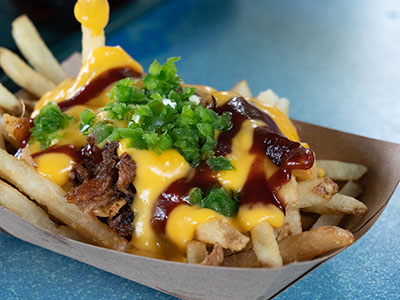 Shovel Cheese Fries
Dusted french fries, topped with aged cheese, smoky bacon, served with homemade Ranch Sauce.

Blackened Beef Tips
Cut in the house blackened Beef Tips seared to perfection.

Shrimp Tostadas
Easy and healthy dinner packed with spicy shrimp and veggies.

Fried Shrimp
Tail-On Large shrimps Hand-breaded and fried to perfection.

Chicken Wings 8pcs
Traditionally cooked chicken wings until golden tossed in our signature hot or mild BBQ sauces.
12 pcs - $13.99

Chicken with Pineapple and Bell Peppers Skewers
A combo of marinated chicken and sweet pineapple and Bell Peppers served with barbecue sauce.

Dragon Tea
Chilled shrimp with tomatoes, hot sauce, celery, onion and cucumber.

Calamari
Seafood lovers' delight! Hand-breaded deep fried to a golden brown calamari rings and legs, served with our homemade Marinara sauce.

Fried Chicken Strips
6 pc chicken strips lightly breaded and deep fried until golden and crunchy.
Dressings: 1000 Island, Ranch, Caesar, Blue Cheese, Italian, French, Honey Mustard, Balsamic Vinaigrette,
Raspberry Vinaigrette.

Argentinosaurus' Salad
Spring Mix, shredded carrots, sliced cucumber, tomatoes, onion and bell peppers.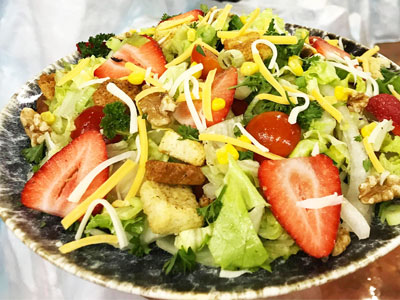 DinoLand Garden Salad
Lettuce, tomatoes, cucumber, onion, cheddar cheese, croutons, walnuts and strawberries.
Add your choice of meat to any salad, for extra:
Grilled Chicken …….$7.99  |  Salmon …….14.99  |  Grilled Shrimp …….$10.99
All our Dinners come with your choice of Salad and one side.

Caveman's Steak* 2lb (allow 20 min)
Over 2 lb. of In house cut USDA Choice bone-in Rib Eye for a true steak lover to celebrate the rich flavor of charbroiled steak.

Fillet Mignon Steak* 6oz
In House Cut USDA choice Fillet Mignon represent s the finest cut from the most tender meat. 8 oz - $29.99

Rib Eye Steak* 14oz
USDA choice steak, fresh and cut everyday.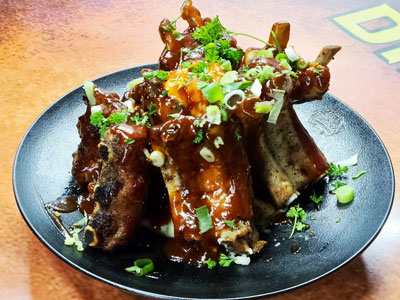 Lava Mountain BBQ Ribs
Seasoned in the House and slowly cooked to fall-of-the-bone tenderness, served with mashed potatoes and our signature BBQ sauce (No side with this dish).

Fried Chicken
Two fresh 8oz chicken breasts hand-breaded and deep fried until crisp and golden.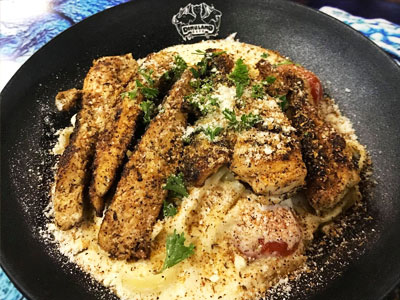 Chicken Fetuccini Alfredo
Sauteed Chicken breast served in Alfredo sauce topped with freshly chopped herbs, Tossed in Fettuccine pasta (No side with this dish).

Pinosaur Chicken with Pineapple
Tender chicken breast grilled & blackened served with rice pilaf in a pineapple bowl (No side).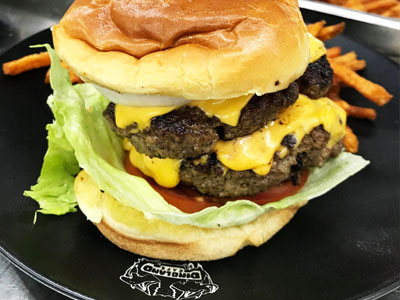 Tyranno Burger
2 Huge beef patties topped with slices of cheese, tomatoes, lettuce, onions and pickles.
From the World of Megalodon
Neanderthal's Loved Seafood

Grilled Salmon
10 oz thick piece of boneless Salmon fillet, served over rice with fire-roasted veggies, lemon and tartar sauce (No side with this dish).

Fish and Chips
Boneless crispy fried Catfish fillet served with french fries and tartar sauce (No side).

Shrimp Fetuccini Alfredo
Peeled and deveined Jumbo Shrimp served with Alfredo sauce topped with fresh chopped herbs. Tossed in Fettuccine pasta (No side with this dish).

Pinosaur shrimp
Choose fried or grilled large, hearty shrimps served with our homemade cocktail sauce.
Mashed Potatoes, Asparagus, Broccoli, Rice Pilaf,
Sweet Potato Fries, Fire Roasted Veggies, French Fries.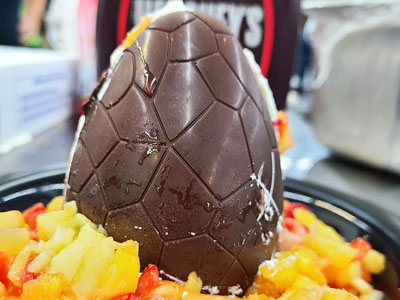 Dragon Egg
Chocolate egg filled with fruits.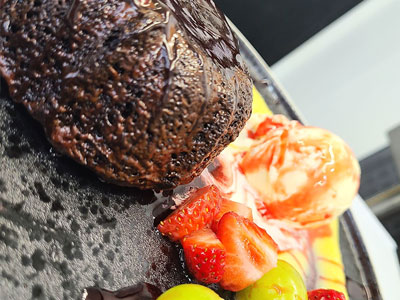 Chocolate Lava Cake
Textured, light cake will ensure a soft and pleasant experience after a perfect dinner.

Ice-Age Ice Cream
Light and refreshing. Topped with fresh fruits.

New York Cheesecake
Served with a fresh strawberry. Ask your server for toppings: Chocolate, Caramel, Vanilla and Raspberry.

Chocolate Cake
Light and refreshing, topped with raspberry syrup.